Worthy Grand Matron & Worthy Grand Patron
Symbols | Plans | Objectives
symbol
The Tabby Cat
Legend has it that a striped cat jumped into Jesus' manger to keep Him warm.  She was marked with an "M" on her forehead to reward her for her care, and tabby cats are also called "Mary cats" in her honor.  I chose the tabby cat to remind us that quality companionship and love do not require a pedigree or frills, just the warmth of our hearts.
motto
Embrace the journey of service to others with wisdom, patience, and grace.
theme
Building friendship with purrs and hugs
charities
Shriners' Hospitals for Children
Tunnel2Towers
Dogs on Duty
our trips
River Cruise from Boston to Montreal
Five State Friendship in South Sioux City, Nebraska
honor stations
Martha & Chaplain
watchword
FAITH
Fidelity: to family, friends, and the promises we make Acceptance:  of all the things we can't change Integrity:  doing the right thing when no one is looking Tolerance:  of those who are different Humor:  to laugh often; it's good medicine
opening ode
Here I Am, Lord
Closing ode
I'll Fly Away
Emblems
Candlestick
The light of a flickering candle brings a room warmth and love, chasing the dark away.  The candlestick reminds us to make our corner of the world a brighter, happier place, so let your light shine!
Dream Catcher:
The dream catcher is a symbol of protection to keep evil spirits away when we sleep, but accomplishments also start with a dream.  The dream catcher reminds us that if we can dream it, we can do it.
Matryoshka (Nested Doll)
Matryoshka are a traditional representation of the mother carrying a child within her and can be seen as a chain of mothers carrying on the family legacy.  In addition to representing our love for our children, they remind us to pass on our traditions and values to our new members.
Fun Emblems
Minions
:
These little characters from the Despicable Me are sweet, clever helpers.  Our DDGMs are the perfect minions to help all of us accomplish our Eastern Star goals of spreading laughter and kindness.
Kit Kat Bars
Flowers
White Roses:
In memory of my mother.
Yellow Roses and Bluebonnets
To honor my home state of Texas.
Peonies
For my OES mom, and their reminder of spring and compassion.
Ferns
For Martha's trustful faith
Colors
Navy Blue
For my father and all of our military members
Hunter Green
For harmony, balance, and nature
Burgundy
For meditation and quiet reflection
Cream
For quietness and pleasantness
Gold accent
For generosity and courage.
bible verses
Joshua 24:15 (KJV)
…but as for me and my house, we will serve the Lord.
Psalm 27:1 (KJV)
The Lord is my light and my salvation; whom shall I fear?  The Lord is the strength of my life; of whom should I be afraid?
Matthew 10:27 (KJV)
What I tell you in darkness, that speak ye in the light: and what ye hear in the ear, that preach ye upon the housetops.
Philippians 4:13 (KJV)
I can do all things through Christ which strengtheneth me.
1 Thessalonians 5:16-18 (KJV)
Rejoice evermore. Pray without ceasing. In every thing give thanks: for this is the will of God in Christ Jesus concerning you.
Turn to Me (John Foley)
Be Not Afraid (Bob Dufford)
You Are Near (Dan Schutte)
On Eagles' Wings (Michael Joncas
Here I Am, Lord (Dan Schutte)
I Can Only Imagine (Mercy Me)
What You Hear in the Dark (Dan Schutte)
Four Days Late (Karen Pence)
Yellow Rose of Texas
Bless the Beasts and the Children (Carpenters)
Send In the Clowns (Judy Collins)
Try a Little Kindness (Glenn Campbell)
You've Got a Friend (James Taylor)
Come Saturday Morning (Seekers)
That's What Friends Are For (Burt Bacharach/Carole Bayer Sager)
Anything sung by Kacey Musgraves, especially Pageant Material
emblems
Eagle, Globe, and Anchor
Reminds us of the motto "Semper Fidelis" – Always Faithful to those who serve with us 
fun emblems
Turtles
For patience and persistence in overcoming all obstacles
Peanut Butter Cups
Flowers
American Beauty Rose
In honor of my mother and sister.
Iris
In memory of my father.
bible verses
Philippians 2:3–4 (KJV)
Do nothing from selfish ambition or conceit, but in humility count others more significant than yourselves. Let each of you look not only to his own interests, but also to the interests of others.
Isaiah 41:10
(KJV)
"So do not fear, for I am with you; do not be dismayed, for I am your God. I will strengthen you and help you; I will uphold you with my righteous right hand.
Romans 12:6–13
(KJV)
Having gifts that differ according to the grace given to us, let us use them: if prophecy, in proportion to our faith; if service, in our serving; the one who teaches, in his teaching; the one who exhorts, in his exhortation; the one who contributes, in generosity; the one who leads, with zeal; the one who does acts of mercy, with cheerfulness. Let love be genuine. Abhor what is evil; hold fast to what is good. Love one another with brotherly affection. Outdo one another in showing honor. Do not be slothful in zeal, be fervent in spirit, serve the Lord. Rejoice in hope, be patient in tribulation, be constant in prayer. Contribute to the needs of the saints and seek to show hospitality.
What a Friend we have in Jesus – traditional
Marine Corps Hymn – traditional
Wait a Little Longer – Del McCroury
Farther Along – traditional
I Saw the Light – Hank Williams
I'll Fly Away – Albert Brumley
WORTHY MATRON'S AND WORTHY PATRON'S
CHAPTER OBJECTIVES FOR 2022-2023
Report on sheet to your DDGM by September 15, 2023.
Thank you for participating in this program!
Open Chapter on time and allow for fellowship before or after the close of the meeting.
Open Chapter in regular form. Chapters meeting twice a month, please open in short form no more than four times in the year. Chapters meeting once a month, please open in short form no more than two times in the year.
Please contact members who have not been attending by sending notes, making visits, or calling. Let them know they are missed and encourage them to come back. Report the number of cards, calls, and visits on the attached form.
Have a Proficiency Night for your members and encourage them to earn their Ritual Pin and charms.
Attend the District School of Instruction and encourage all of your members to participate.
Plan an Honor Night for all 25+ year members.
Attend your District Reception.
Plan a Go-to-Church Sunday and spend fellowship time after the service.
Plan an event to honor the Masonic Youth Groups in your area and attend one of their functions during the year.
Plan an event to honor the Masons and spend time with the brothers.
Plan a Friendship Night, inviting your District Chapters, and maybe neighboring Districts.
Please donate the Coin March from this night to Masonic Outreach.
Remember your shut-ins at least twice this year. Report the number of calls, cards, visits, etc., on the attached form.
Plan a service project in your community where all participating members wear a Chapter or OES shirt.
WORTHY MATRON'S AND WORTHY PATRON'S
MEMBERSHIP OBJECTIVES FOR 2022-2023
Complete the attached score card and return it to your Worthy Matron.
She will turn these in, together with the Chapter Objectives form, to the District Deputy Grand Matron by September 15, 2023. Thank you for participating!
Attend your Chapter meetings on a regular basis, serving as Officer or Pro-Tem as needed.
Keep in touch with at least one shut-in in your Chapter by calling, sending cards, or visiting.
Attend the District Deputy Grand Matron's Official Visit in your Chapter.
Attend the Official School of Instruction in your District.
Attend the Official Reception in your District.
Attend Friendship Night in your Chapter and at least one other in your District, or in a neighboring District.
Attend the Go-to-Church Sunday Service with the members of your Chapter.
Attend the Youth event at your Chapter.
Attend the Masons' event at your Chapter.
Participate in the Proficiency Night at your Chapter meeting or earn your Ritual Pin and/or charm(s) by meeting with one of the Past Grand Matrons or Past Grand Patrons either in your District, or before the Official School of Instruction in your District.
Participate in the service project in your community along with your chapter members, wearing an OES shirt.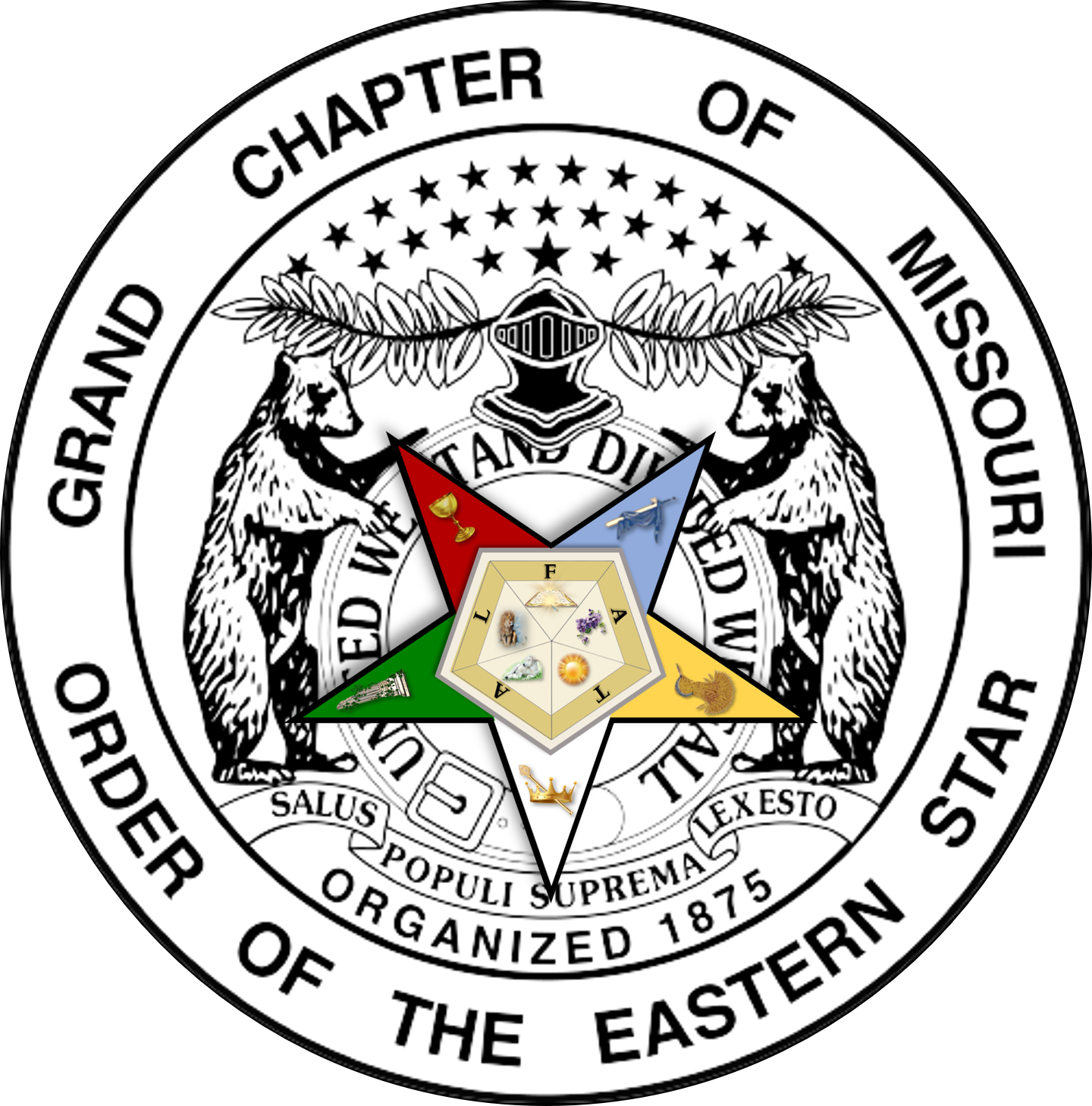 Grand Chapter Of Missouri
Order of the Eastern Star
6033 Masonic Dr.
Columbia, MO 65202
Contact Us
GrSecretary2014@oesmo.org
573-777-4OES